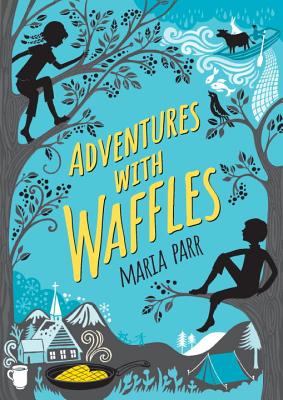 Looking for something fun to read with your kids? Something that will make you giggle together? To enjoy the imagination and energy of being young? Adventures with Waffles might just be for you.
Here's the Blurb:
Lena is Trille's best friend, even if she is a girl. And there is never an ordinary day when you've got a best friend like Lena. Hardly a day passes without Trille and Lena inventing some kind of adventure that often ends in trouble. Whether it's coaxing a cow onto a boat or sledding down the steepest and iciest hill with a chicken, there is always a thrill–and sometimes an injury–to be had. Trille loves to share everything with Lena, even Auntie Granny's waffles. But when Lena has to move away and Auntie Granny leaves the world, it sometimes seems like nothing will ever be right again. The warmth of friendship and the support of family suffuse this lightly illustrated novel, proving that when times are tough, a little taste of sweetness can make all the difference.
My review:
I didn't know what to expect when I got this book. A friend had recommended it as an escape she had with her kids during the pandemic. Well, Adventures with Waffles didn't disappoint. We laughed. And, at one point, I cried. Ugly tears. (I wasn't ready for that.)
Every chapter was a fantastic mini story in an over arching plot. For that reason, it should have been easy to put the book down at the chapter breaks (a mini story had ended, kids, let's go play)… but we always needed MORE. And once we got to the parts that tugged at my heart strings, there was no going back. We had to finish the rest of the book in one sitting.
I highly recommend Adventures with Waffles.
Now, I need to go make my kids some waffles and find another adventure to start.